Finding and linking to Cranfield Alumni on LinkedIn
Why is this important?
Cranfield University is making big changes to the way in which it engages with alumni – the first step is to roll out the School of Management alumni relations model across all Schools of the university. The eventual aim is
… to create an even stronger and more vibrant alumni network, spanning all corners of the globe…  
You can read the full update from the Director of Alumni Relations – Benedicta Morrow-Slason here
The Australian alumni community is at the forefront of the new engagement model that the University is creating. Our Australian community came together initially driven by School of Management alumni but for a long while we have been including alumni from other Schools in our activities as we discovered them. We are now actively supporting the University by locating alumni from all Schools (via LinkedIn as well are referrals) and thus creating the means for the University to reengage with Alumni in this region.
Our primary means to find alumni is via LinkedIn Connnections. When we are all connected on Linkedin, we can find each other easily to join together as a community. It also brands each of us as Cranfield alumni – to everyone's mutual benefit. 
The best way to describe the value of being connected on LinkedIn is to liken it to a  "water cooler" experience. When you happen to be in the same (digital) space with someone, things happen spontaneously. You can catch up, bounce ideas off people, exchange information and feedback and introduce people to others you know that share interests. Or you can simply to get back in touch with someone you had lost contact with . LinkedIn enables you to do all of those things. 
Please help us to find Cranfield Alumni
You can do this:
Details for various methods to search for and connect to alumni using LinkedIn are below.
Once we have your details we can invite you to functions – including the Annual Award Dinner in May, we hold 2 -3 other functions across the states.
How to search do it?
There are three different ways to find Cranfield alumni on LinkedIn and they will all yield slightly different results
---
Method 1 – Via the "Find Alumni" function
This is the best way to reconnect with a large number of alumni quickly and find people from your own year. 
1 Under the Network tab, select Find alumni.


The screen will automatically populate with one of the schools entered in your profile – exactly as you have worded it on your Linked In Profile.
Be aware that this may not be exactly the same way that other alumni have entered the name in their qualifications.  For example,  some Alumni may refer to Shrivenham as "Royal Military College of Science",  others may refer to it as "Defence College of Management and Technology"  and some as "RMCS" and each search will give you a different set of people.  
To enter other variations  select "change school" and key the name in

A search on "Royal Military College of Science" finds 104o students in total. You can then click on Australia and it will show just the ones located here (83 of the total). You can also change the year parameters to match your years of study.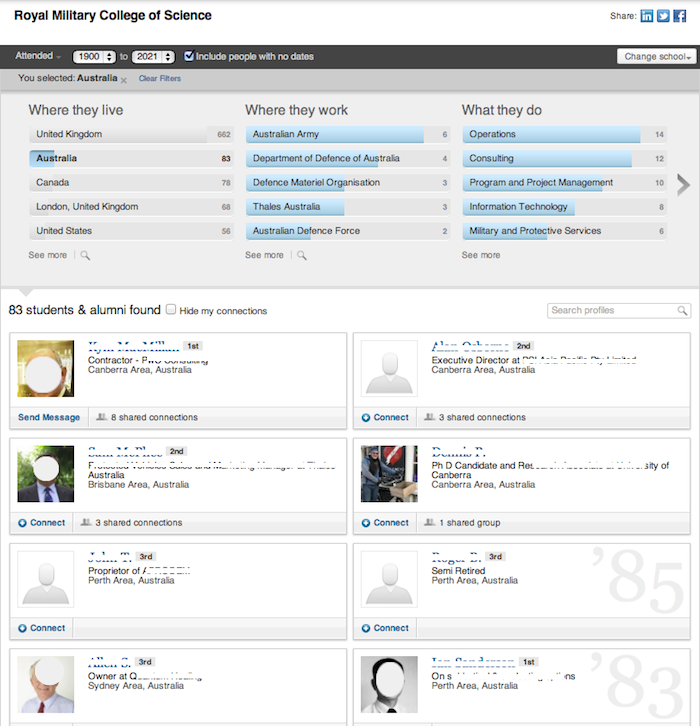 A search on "Defence College of Management and Technology" finds a different group of people.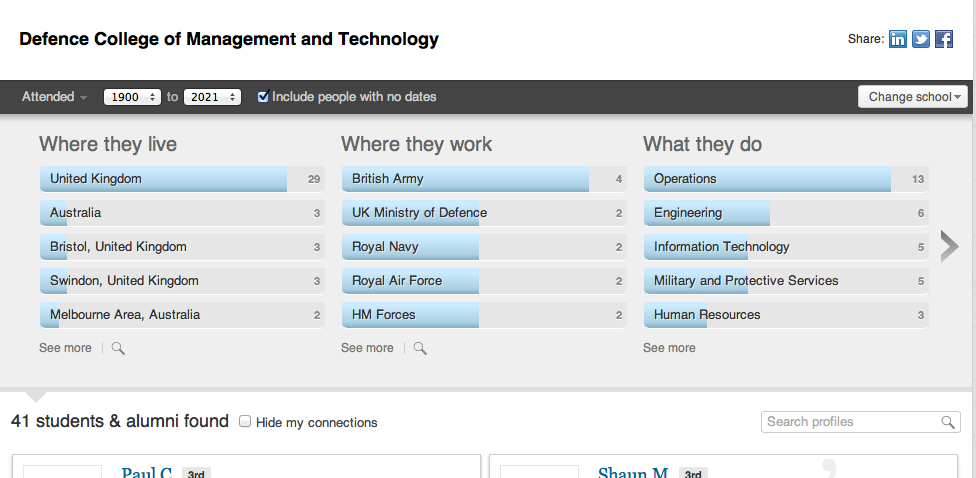 2 Click on the Connect button
and LinkedIn will send off an invitation (if that person allows connection requests). Depending on how they have set their connection options, LinkedIn may request that you add their email (if you know it). If you don't know it, you can't send the connection request. so do step 3. 

3 Click on the name to show the profile
If the person has set their options to require an email for a  connection request and you don't have it, then just click on the name to display their profile. Most people check who has looked at them and often will send you a connection request by return. 
You should be able to find and track down most of your alumni in an evening. 
4 Repeat steps 1-3 every few weeks 
To show just the alumni you have already connected to, click the "hide connections" box. 

---
Method 2 – By email invite
This method works best if you have an current email address for one (or more) Alumni. You can send off invitations for one person or a whole list of them.
1 Under the Network tab, select "add Connections".

2. Click the "any email" icon, and then click "invite by individual email"
Enter the emails of the people you wish to connect with in the opened box, separated by commas, and then press "Continue".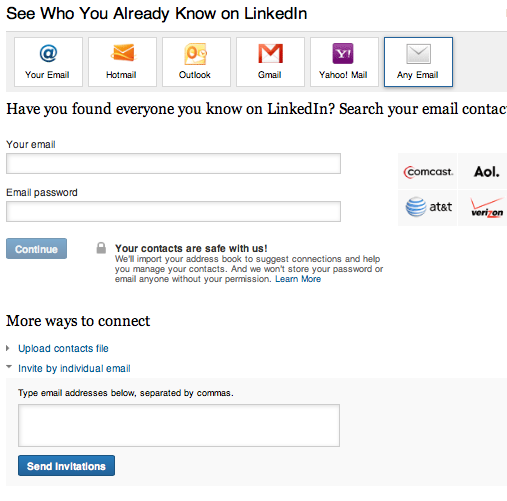 3 LinkedIn decides what to do with the invitation
LinkedIn will then search profiles looking for a match to the email that you have entered. What happens next depends on whether the person is on LinkedIn or not and what options they have set for connections.
If it does not find a match:

This could be because the person has not loaded their email against their profile or it may be that they are not on LinkedIn

If it does find a match for the email:

This means the person is on LinkedIn. But before sending the invitation, LinkedIn checks the connection options the person has set

 
 
 
 
The person will get an email asking them to confirm they know you and also to join Linkedin
If the person is accepting connection requests, LinkedIn will send an invitation to the person and you can see who it has gone to by checking the Sent Email box.
If the person is NOT accepting connection requests, LinkedIn will not send an invitation. 
---
Method 3 – LinkedIn Saved Search
1 Enter "cranfield" in the search field
at the top of the LinkedIn screen and press the blue search icon.
The down the side of the screen change the options to those shown (you will have to "add" Australia to show just the Australian Alumni). Don't bother to select on School
This will give you a list of everyone in Australia who has Cranfield in their profile (any where in the profile) and it will show you which field – e.g. education, past employment (if they have added Cranfield there). 
Some Shrivenham alumni may use variations such as "Cranfield University Shrivenham" or "RMCS Shrivenham" – in this case you will need to do multiple searches.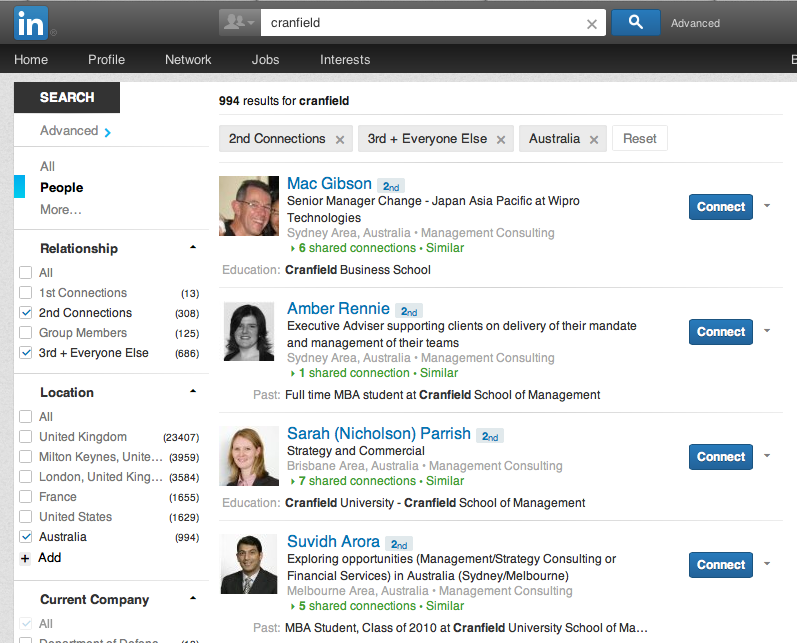 2 Click on the connect button 
The same rules for connections apply as per above.
3. You can save the search
LinkedIn will then send you a weekly or monthly email with a list of people who meet the search criteria
To save the search click on:  

When you get this screen, set the frequency to weekly or monthly and you will get an email accordingly. If you combine the saved search with connecting to all the Board Members – see below, you will then get an alert (via second or third connection) as the Board members link to everyone 

A weekly saved search will send you an email every Sunday night. You can then check names and send off connection requests.  
---
---