Fast track for Alumni seeking Board Positions

Gaining a board appointment is a natural progression for senior executives and an invaluable way to further your career as well as to 'give back'.
A board appointment has been proven to increase opportunities – both professional, and personally – including increased likelihood of promotion, higher salaries, greater executive opportunities.
Developing a 'portfolio of directorships' can also provide a very attractive retirement solution.
A Board level role is a great way to maximise the value of your Cranfield MBA.
However, gaining a board appointment is a highly competitive process, one with its own special process that most skilled executives are not well prepared for.
To help our Cranfield Alumni in Australia, we have developed a relationship with Board Direction – Australia's leading Non-Executive Director and board career support firm.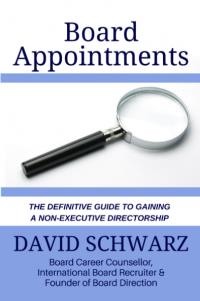 Board Direction are dedicated to getting their members a board appointment.
They publish Australia's largest and most diverse list of Non-Executive vacancies.
As corporate sponsors to CAASF, Board Direction have agreed to provide a copy of their eBook – "Board Appointments – A definitive guide to gaining a board appointment' free to anyone who registers to become a member of their service.
Just visit https://boarddirection.com.au and use the 'CRANFIELD' code at checkout.
Then let your fellow Alumni know how things turn out.